Football
LEGENDARY CORNER: Ronaldinho and Ricardo Kaka's All Time Statistics
LEGENDARY CORNER: Ronaldinho and Ricardo Kaka's All Time Statistics
LEGENDARY CORNER: Ronaldinho and Ricardo Kaka's All Time Statistics
In this post, you will see the performance and accolades of two legendary brazilian players in their football career. Ronaldinho and Ricardo kaka are two of the best players I'm football history. Both footballers played for top European clubs in their career. Check out their performance below.
READ NOW: Tamale FC petition Ghana FA over  MTN FA Cup criteria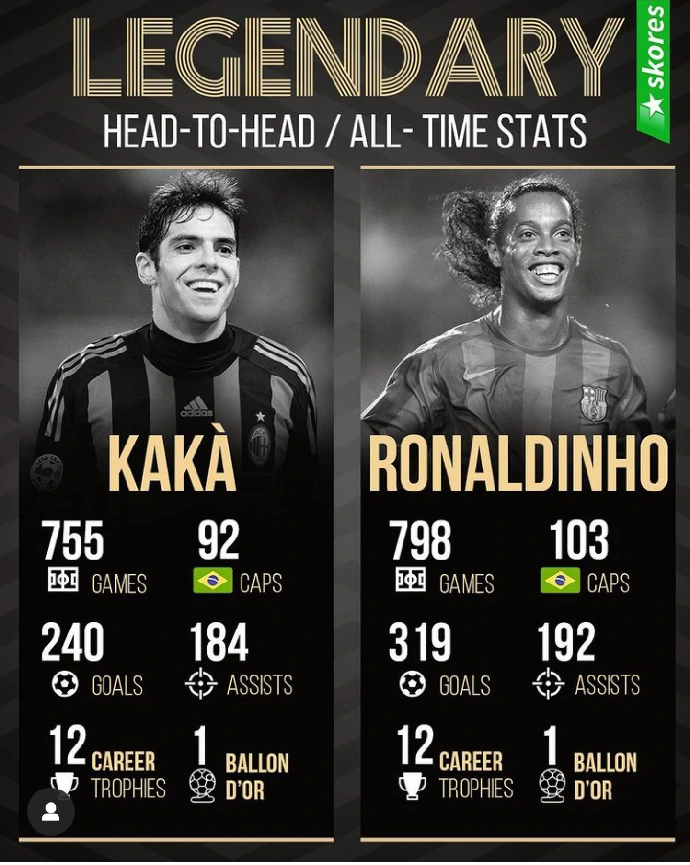 Both Ronaldinho and Ricardo kaka played at AC Milan. Ronaldinho was also successful during his spell at Barcelona. He was a good dribbler and free-kicks taker. Ronaldinho and Ricardo kaka won 12 career trophies. Both players won one ballon d'or award each. Kaka made 92 international appearances for Brazil, while Ronaldinho gaucho made 103 international appearances for Brazil.
CLICK MORE: Manchester United give Cristiano Ronaldo condition to return this summer
Kaka scored 240 goals in 755 games, while ronaldinho scored 319 goals in 798 games. Ronaldinho also made 192 assists, while kaka made 184 career assists. Ronaldinho contributed to 511 goals in his football career, while kaka contributed to 424 goals in his career.
Source: footballstat